The five tetrads that run through the middle of NZ26 straddle the Tyne.  The bridges sit neatly in L so when it comes to R and W you will have to choose one side of the river or the other, both have their advantages but with a low sun looking North across the river was going to be the choice.
Keelsmans Way runs along the river for most of the two squares. Starting at the Baltic while it awaits the return of the Kittiwakes, Long-tailed Tits were vocal amongst the dominant Sycamores.  You then pick your way between Industrial Units until you rejoin the River again at the
Kittiwake Tower.
Going East along the river if only heron's could read English they would know the sign says keep off the contaminated mud it was fishing from.  A Great Spotted Woodpecker drummed on a dead tree and I was pleased that I had got up to 23 species.
Better was just around the corner.  Past some new flats you enter W -Bill Quay south of the River and St Anthony's/Walker north of it.  This is going to prove to be one of the star tetrads I feel.  The riverside woodland is quite mature and holds a good number of birds and selection of species.  Being able to watch a calling Stock Dove was not what I was expecting along here.
I met a guy with 4 old Jack Russell dogs who talked about writing to the Council to get them to keep  the dead trees standing for the woodpeckers as another drummed away.  He had put out a bird feeder and some other seeds in what felt like a private nature reserve.  The down side being he described a few rabbits that just seemed to die.  I latter found one lying on a path without any visible injury or disease.
The edge of the tetrad runs north up the river after you have gone past Bill Quay Farm.  I know this is heresy but beyond NZ26 and into Hebburn looks like a great area which must be under watched and shows promise.  The mud on the river held Curlew, Redshank and Lapwing (new for the NZ26 year).
At this point I had clocked up 37 species in this tetrad.  I am sure a few tetrads will give most of the year list species and this is one of them.  Walker Riverside Park the other-side of the river and also in this tetrad will add to this being one of the high scoring squares.
On the way back keen not to ignore the rest of W and R I walked back past possible the World's biggest Magpie's nests on the Felling By-Pass.  It must have been building over a number of years and is a monument avian construction.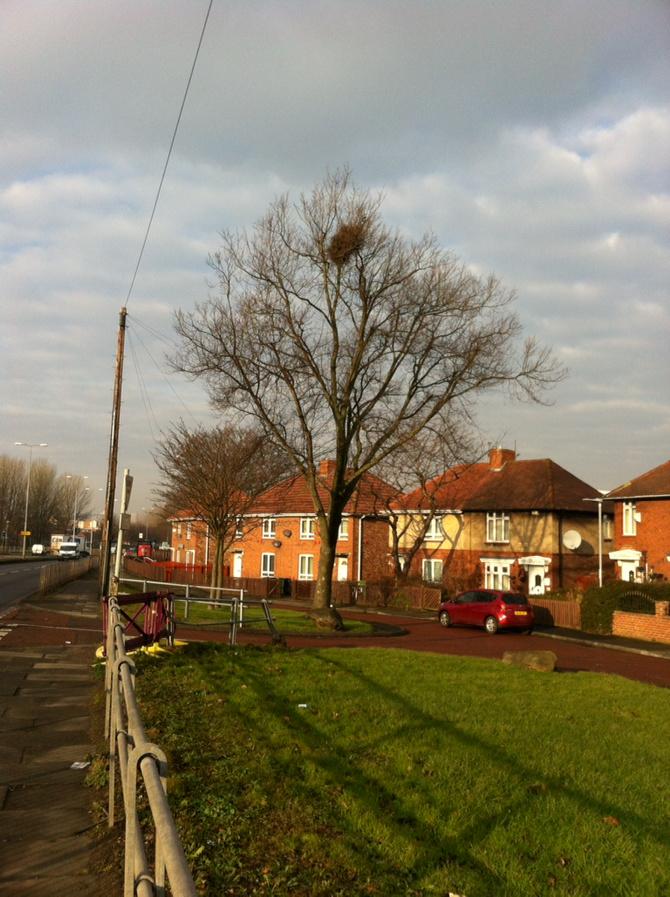 Other highlights
more than 500 records to BirdTrack
and in the species tally Redpoll in Z and Red Kite in A take the total to 60.